Sign up now to hear my talk FREE January 1. Or buy the #starstruck global #astrology summit bundle for $19.99 before the code FIREPOWER expires! astrostyle.com/vanessa
All the talks. A wealth of wisdom.Cosmic tools you'll use all year long.
Part festival, part thought-leader symposium, STARSTRUCK will present pre-recorded conversations hosted by The AstroTwins. It debuts January 1, 2020 online, and will be accessible to buyers 24/7 all year long.

YOUR STARSTRUCK TICKET INCLUDES:
+ Over 20 inspiring talks
+ The AstroTwins' 2020 Horoscope guide (PDF)
+ A special speaker bonus gift and a New Year guided meditation (coming to your inbox in January)
Come hear the galaxy's brightest stars wax astrological on topics such as love, money, sustainability and success for 2020 and beyond.
STARSTRUCK 2020 Global Astrology Summit is a virtual gathering of top and emerging astrologers sharing their galactic guidance for the new decade.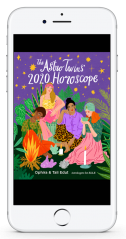 Buy the full Summit & download a free copy of The AstroTwins' 2020 Horoscope (PDF)…
and get a special speaker gift this January!
*Text & images c/o Astrostyle.com/vanessa